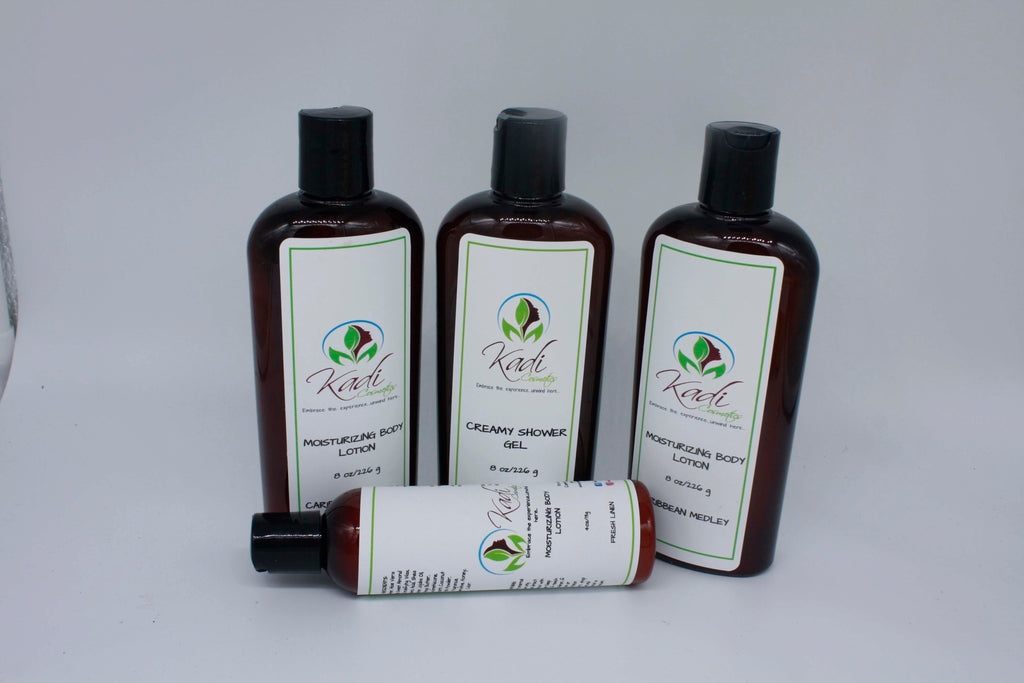 ---
If your skin needs moisture, but not as much as our body cream provides, then KADI COSMETICS MOISTURIZING BODY LOTION is exactly what you need. It gently soothes and moisturizes the skin, leaving it feeling and looking good, all day long.
 Scent descriptions:
Apple Spice- It has hot and spicy top notes of cinnamon and cloves rounding down to the mellow scent of red apples
Aquamarine - notes of modern rose and lily with hints of orange, lime and ozone
Caribbean Medley - a tropical blend of pineapple, mango and papaya, with light vanilla notes.
Citron - one of our unisex fragrances, a musky cologne with citrus and amber notes. A client favorite.
Refreshmint- A wonderfully fresh and 'citrusy' blend with notes of peppermint.
Edge- Our very sexy male fragrance, with notes of 
Calabrian Bergamot, French Lavender, Juniper Berry, Patchouli and Leather.
Enamored - our unisex signature scent with fragrances of musk, lime, grape, peach, and plum, sparkling citrus, rose and jasmine.
Enchanting - a sweet and sexy mixture of lily of the valley, sugared strawberries, pink grapefruit and white sandalwood
Fresh Linen- A delightfully refreshing mixture of j
uicy blood orange, sea berry, passionfruit, raspberry, starfruit and rosewater, violet leaf, thyme and musk. Perfect for using right before your favorite perfume/cologne.
Indulgence- think 'zesty lemon' meets 'sweet, delicious angel food cake' for this delectable treat to your senses. This lemon cake, dessert-type fragrance is sure to leave you hungry for a slice, while making your room smell irresistible!
Merry Cranberry-frosted cranberry with rich plum, a definite favorite.
Spring Fields - a light and refreshing scent with green tea, aloe, lemon, jasmine, vanilla and lily.
Serenity- a perfect blend of lavender and rose
Unscented- for those who want to try the amazing products, but without any fragrance.
---
Share this Product
---
More from this collection